Outline of the activities
About ACIS
Outline of the activities
Agricultural chemical registration inspection
It is stipulated in the Agricultural Chemicals Regulation Law(hereinafter simply referred to as "The Law") that any person, who would like to manufacture, process or import an agricultural chemical, must get a registration of the agricultural chemical from the Minister of AFF in advance except some specific case. He/she/it must submit the application form with various types of data/study reports(e.g. physical/chemical property, efficacy, phyto-toxicity, toxicity, residual chemistry) and the sample (as needed) of the agricultural chemical to the Minister through Food and Agricultural Materials Inspection Center (FAMIC). The Minister orderes FAMIC to inspect/examine the submitted data/study reports and sample.
After the inspection/examination, the inspection report is reported to the Minister. In the case that it is found that there is no concern with respect to the efficacy, quality, safety of the agricultural chemical, the agricultural chemical is registered with its application method(crop types, rate, pre-harvest interval, the phrase for proper-use of agricultural chemicals) and the registration card issued by the Minister is granted to the applicant.
In addition, all registered agricultural chemicals shall be reassessed at certain intervals in the light of the most up-to-date scientific knowledge and information. ACIS also works for them as is the case in first registration.
Current situation of the registered agricultural chemicals
Total number of the registered agricultural chemicals is now 24,135 (as of 30 September 2018) since The Law has entered into force. 4,282 of them (590 active ingredients) still have valid registration. Now 25% of the registered agricultural chemicals are insecticides, 21% fungicides, 11% mixtures of insecticides and fungicides, 36% herbicides and 2% plant-growth regulators. With respect to formulation types, 33% is wettable powder, followed by granule,dust,emulsifiable concentrate and solution. The portions of poisonous agricultural chemicals have been decreasing.
Flowchart of the Registration System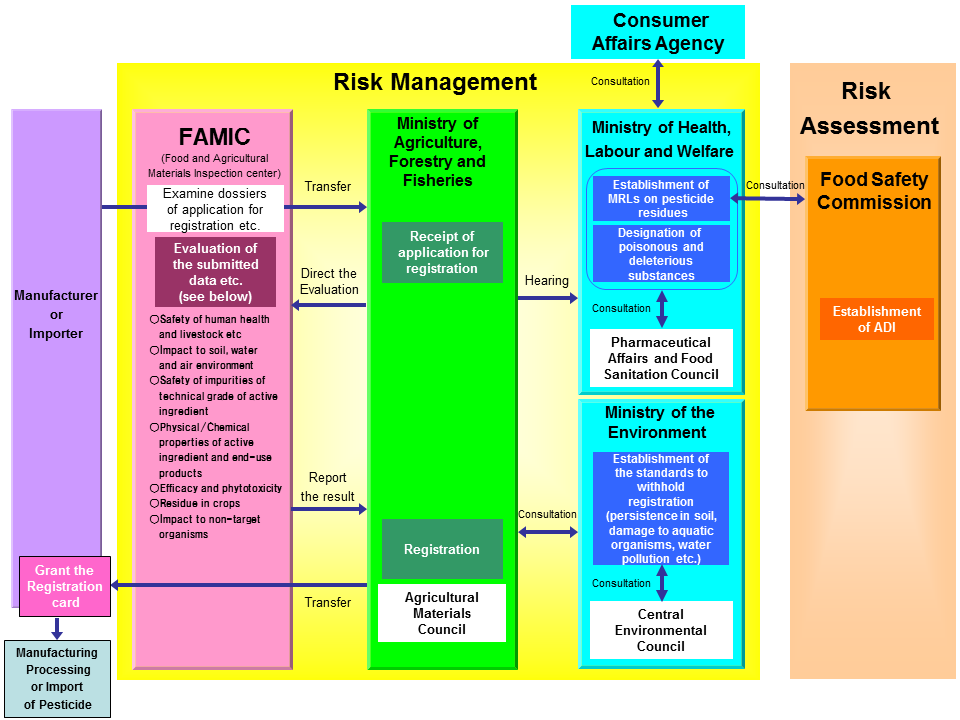 Good Laboratory Practice Compliance Monitoring Program on Agricultural chemicals
The Principles of Good Laboratory Practice (GLP) have been introduced into the area of toxicological studies on agricultural chemicals since 1984 in Japan. GLP is a practice to ensure integrity and validity of the study reports submitted to the Minister. Test Facilities, which conducted/generated study/ report, are inspected by ACIS on whether they properly conducted studies. Concretely, organization, personnel, apparatus, equipment, study performance, record and archiving of the test facility are inspected.
Following types of study should be covered under the GLP:
Toxicity testing
Mutagenicity testing
Studies on behavior in water and soil and bioaccumulation
Physical-chemical testing
Analytical testing
Environmental toxicity studies
Residue studies
Outline of the GLP Compliance Monitoring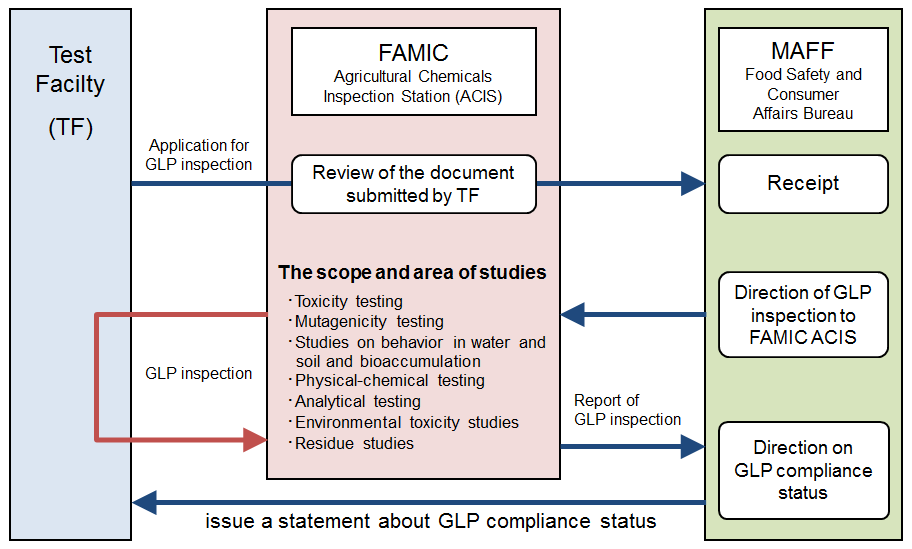 Research/study to inspect/examine pesticide
It is necessary to introduce new technology and improve inspection method to carry out proper inspection/examination of pesticides, taking the progress of recent scientific area into consideration.
Researches/studies in the area of quality control , efficacy/phyto-toxicity, environmental toxicology and environmental behavior/fate of pesticides have been carried out in ACIS to date. Now ACIS is going to tackle special projects(e.g. validation of test methods, development/revision of analytical methods for impurities of concern that may be hazardous and included in pesticides.) in which people are highly interested.
International harmonization with respect to pesticide evaluation
ACIS's staff have taken part in several international meetings/workshop such as Organization for Economic Cooperation and Development and Codex Committee on Pesticide Residue, etc. in conjunction with national government. The main purpose of the meetings/workshop are to develop internationally harmonized pesticide registration system and Maximum Residue Level(MRL), etc. Pesticide evaluation reports/information in another countries/bodies are also collected and classified.
Training/advice
Based on the request, training/advice to distributors/retailers are made by ACIS's staff through the training course hosted by prefectural government, etc. The main purpose is to facilitate proper use/handling of pesticides.
Technical aid to developing countries
In conjunction with national government, ACIS provide developing countries with technical support on their request in order that they will be able to improve their own pesticide inspection system(e.g. Staff sending and acceptance of trainee).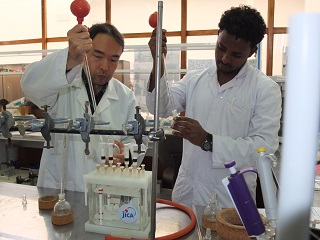 Technical aid in Ethiopia.
On-site inspection to manufactures, distributors/retailers and users
With the growing interest in healthy life among Japanese people, they are becoming keener of food safety issue. Thus, it is necessary for the government to prevent non-registered pesticides from being sold. Therefore, ACIS's staff visits manufacturers, distributors/retailers and users to inspect whether non-registered pesticides are sold and to audit the account book concerning buying or selling pesticides, and check the quality and label of the distributed pesticides.