Contact Us
About ACIS
Contact Us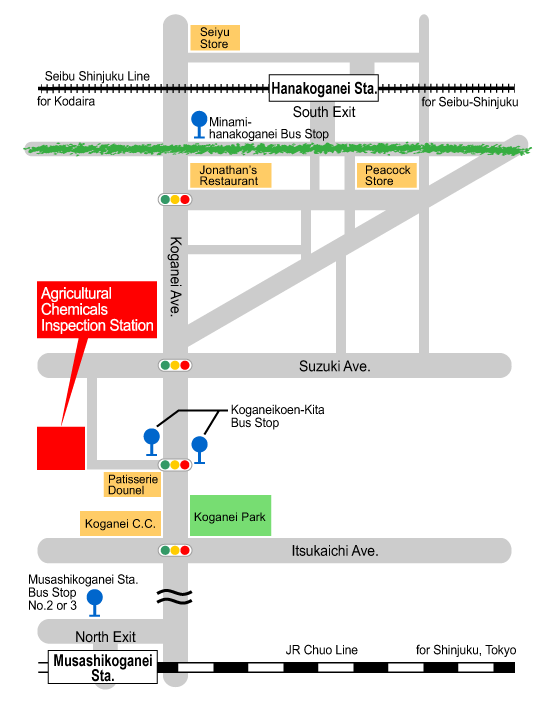 Incorporated Administrative Agency Food and Agricultural Materials Inspection Center (FAMIC),
Agricultural Chemicals Inspection Station
2-772 Suzuki-cho, Kodaira-shi Tokyo 187-0011, JAPAN
Phone +81-50-3797-1865
FAX. +81-42-385-3361
By train and bus
The nearest train stations are:
Hanakoganei Station: on the Seibu Shinjuku Line. We recommend taking the express or semi express trains from Seibu-Shinjuku station or Takadanobaba station. In that case, trains bound for Shin-Tokorozawa, Haijima, Hon-kawagoe and Tamagawa-josui are available. Please note Tanashi-bound trains do not connect to Hanakoganei station. ACIS is 15 minutes on foot from the station. The facility is 10 minutes from the station by Seibu Bus or taxi (including walking time). Bus numbers 12,13,15 and 21 from Minami-hanakoganei stop are currently available.
Musashi-koganei Station: on the JR Chuo Line (Rapid Service), running from the following stations - "Tokyo, Shinjuku, Kanda, Ochanomizu". Musashi-koganei station is located 15 minutes from ACIS by Seibu Bus (including walking time).
Bus numbers may vary due to changes in routes. The following 5 buses are available currently.
from stop no. 2
12 (bound for Higashi-kurume-eki Nishiguchi (via Maesawa-syuku))
13 (bound for Kiyose-eki Minamiguchi)
from stop no. 3
15 (bound for Takiyama-danchi)
15 (bound for Takiyama-eigyosho)
21 (bound for Higashi-kurume-eki Nishiguchi (via Kinjo-kokomae))